Walk-in Shower Stall with Seat
If you are looking for ways to stay in your home longer as you grow older, consider Freedom Easy Step Showers for an accessible bathroom. For the aging in place population, Freedom walk-in showers are specially designed to help your home grow with you.
Freedom Easy Step Walk-in Shower units offer a luxurious and comfortable solution to bathroom safety without sacrificing style. These low threshold showers have a 3″ or 4″ curb that is easy to step over and ideal for installing a shower door.
Many of our premier walk-in showers kits are available with convenient features like large molded shower seats, soap dishes and leg ledges for comfortable & easy bathing.
Many of our Freedom Showers are available in a granite-styled, solid surface finish – elegance and functionality wrapped in one. Freedom walk-in showers have a 30 year manufacturer's warranty. Choose from our selection of premier bathroom showers available in one-piece models for new construction or multi-piece shower units for renovation projects.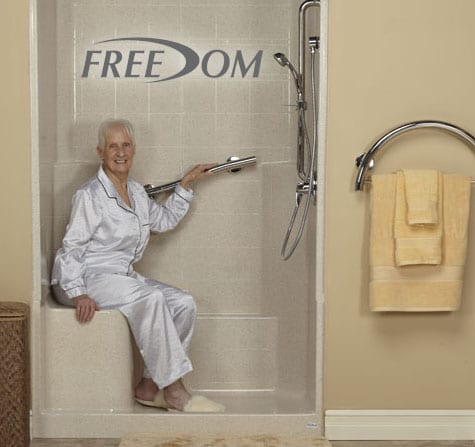 Get more details:
We take pride in our customer service being our best asset. We want you to call us at our toll free number, so we can help answer any questions you might have, and to make sure you are getting exactly what you need.