Accessible and ADA Shower Accessories
Accessible and ADA Shower Accessories make your Accessible or ADA Shower safer and more comfortable. Accessories can be easily added to your shower order or purchased separately.
Many types, styles, sizes and colors of shower accessories are available.
For ease of selection our most popular Accessible Shower Accessories are displayed below.
Many other types, sizes and styles are available, please call if you do not see the size you need.
The Accessibility Professionals team has assisted many people to transform their bathrooms making them easier to use.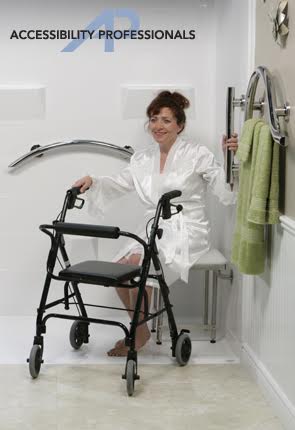 Collapsible Water Retainer
A Collapsible Water Retainer helps the bathroom floor stay dry. This is accomplished without difficulty as the showers are designed so that a 1″ collapsible water dam can be easily added to the shower threshold.
Collapsible Water Dams are made of durable neoprene rubber and allows the user with limited mobility to step into the shower or a wheelchair to be rolled over with minimal effort. Collapsible Water Retainers come with a self-adhesive for ease of installation.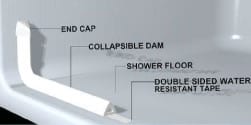 ---
Semi-Permanent Threshold Adapter
A Semi-Permanent Threshold Adapter is added to a curbless shower threshold for the purpose of adding a shower door.
Accessibilty Professionals does not recommend adding a shower door to an Accessible Shower, as the user will be required to step over the 2″ threshold. However, a Semi-Permanent Threshold Adapter does provide flexibility for users as the Semi-Permanent Threshold Adapter can be installed or removed at any time.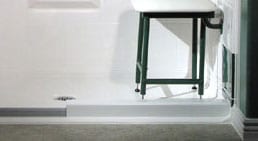 ---
Shower Seats
A large variety of wall mounted folding shower seats and benches are available in a variety of styles and sizes. These high quality shower chairs are made of stainless steel for strength and corrosion resistance. Rounded and smooth edges and hinges allow for a safe and easy side transfer. When properly installed, many shower seats have been designed and manufactured to be ADA compliant and all fold down shower seats are designed to support loads from 250 lbs. to 900 lbs.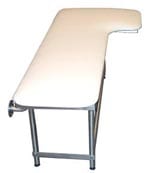 ---
Grab Bars
Shower grab bars assist you when stepping into and out of the shower.
A grab bar helps to steady you, especially when it's wet.
Installing grab bars is inexpensive way to make your bathroom safer. There is always room to install grab bars in the bathroom.
Grab bars come in a variety of styles, sizes and colors.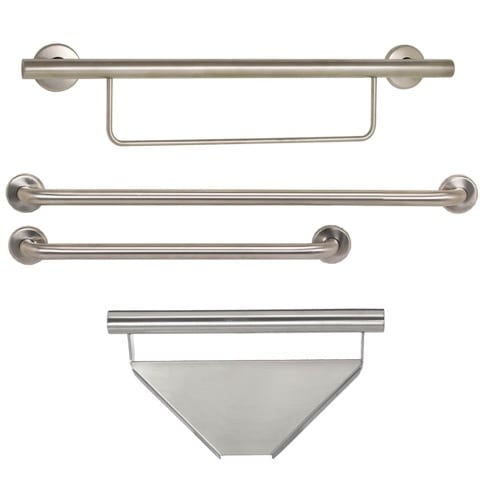 ---
Handheld Shower Head Glide Bar
Installing a hand-held showerhead is an easy way to make your shower safer and easier to use. The chrome yoga glide bar allows for an adjustable stationary position for the showerhead or alternatively the showerhead can be removed from the glidebar and held in hand.
The shower set comes with a double seam shower hose, the showerhead is white and is ADA approved.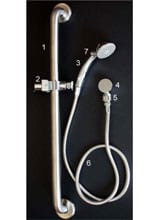 ---
Shower Pressure Mixing Valve
Installing a pressure mixing valve ensures that water temperatures remain constant independent of water pressure changes in the household or facility.
This thermostatically controlled valve, produces the exact water temperature set. This constant water temperature ensures you don't get a burn from the water changing temperature.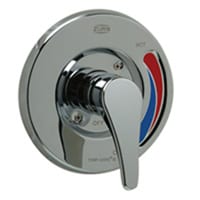 ---
Heavy Duty Shower Curtain
These heavy duty shower curtains are not the typical shower curtain. These curtains are flame resistant, stain resistant, static resistant, antimicrobial, odor resistant and very durable. Over time a Heavy Duty Shower Curtain is the most economical choice.
Heavy Duty Shower Curtains are available to fit all available ADA and Accessible Showers.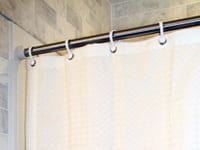 ---
Shower Curtain Rod
Shower curtain rods are made from 1″ tubular stainless steel and are available for all sizes and styles of Accessible and ADA Showers.
---
Drains
This 2″ caukless brass drain fits all ADA and Accessible Shower models.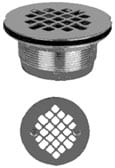 Call 1-877-947-7769
© 2018 info@accessibilitypro.com | Privacy Policy
Call Us Toll Free: 1-877-947-7769